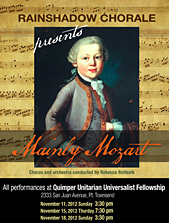 December, 2012 "Mainly Mozart"
Litaniae Lauretanae was written by 15 year old Mozartupon his return from Italy in 1771. It is a small-scale work, suggesting that it may have been written for use in the chapel of the Schloss Mirabell, the Archbishop's summer residence, rather than for the Cathedral of Salzburg.
Misericordias Domini was written shortly before Mozart's departure from Munich when he was asked by a local patron to demonstrate his skill in polyphony. One of Mozart's admirers wrote that he found in it "all that is required by modern music: good harmony, mature modulations, a moderate pace in the violins, a natural connection of the parts and good taste." At this time, Mozart was 19.
Venite Populi was written the next year, 1776, in Salzburg and is one of Mozart's few works for double chorus. It features several stylistic traits dating back to the Italian Baroque and particularly to the polychoral music of Venice.
Sancta Maria, mater Dei was composed in September of 1777, perhaps as an offering to the Virgin prior to setting out with his mother for Paris.
NICOLÀ PORPORA, born in Naples in 1686, was internationally famous during his lifetime both as a composer (particularly of vocal music and opera) and as a singing teacher. Porpora spent much of his time in Venice, composing and teaching regularly in one or two of the four local orphanages for girls that specialized in music. It is thought thatLauda Jerusalem, for four women's voices, was written in 1744 for one of those schools.
Porpora's Kyrie is one of the few works he wrote for mixed voices. The year of its composition is not known. The work is in four parts; the first and third are homophonic, the second and fourth fugal in style.