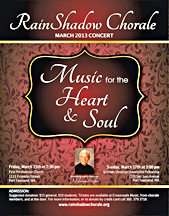 GUEST DIRECTOR J. Edmund Hughes
March 2013
From Renaissance-era songs to "A Shakespeare Suite," the RainShadow Chorale will offer "Music for the Heart & Soul" tonight and Sunday at two Port Townsend venues.
For this pair of performances, RainShadow guest conductor J. Edmund Hughes has composed the"Shakespeare Suite," with lyrics from the Bard's plays.
The conductor also is including a variety of other works, from gospel songs to Gregorian chant — pieces to "get us in touch with our emotions and our spirits," he said.
At these concerts, listeners will hear songs inspired by many sources: the Catholic Mass, a story by Rudyard Kipling and the poetry of e.e. cummings and Edna St. Vincent Millay.