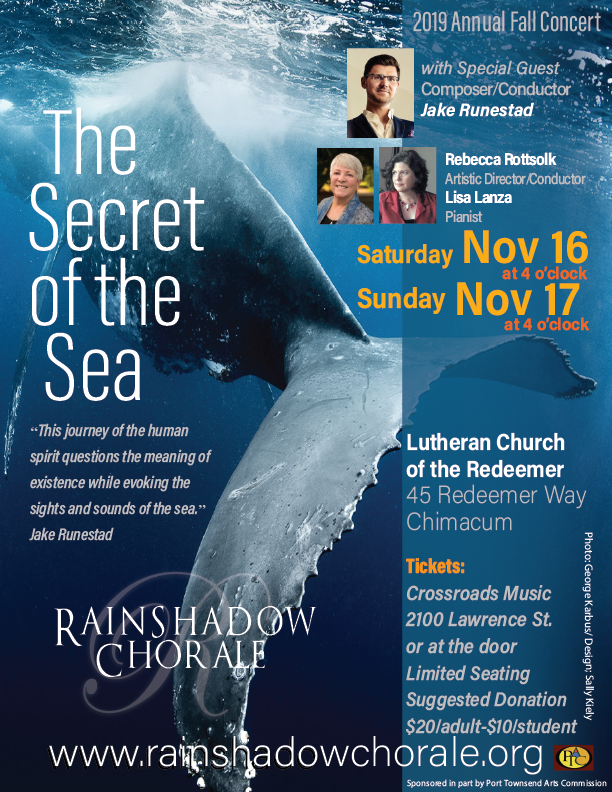 RainShadow Chorale is pleased to announce an exciting collaboration for our fall concerts on November 16 and 17, 2019.  Jake Runestad, a world-renowned composer and conductor, has accepted our invitation to come to Pt. Townsend to work with us on his new composition, "The Secret of the Sea," written for chorus, piano, string quartet, and percussion.  Jake will conduct that piece and another of his works in our performances.  He has collaborated with leading ensembles throughout the world and we are thrilled that RainShadow will join that group.  RainShadow has performed several of his works in past concerts and they are among our favorites.
Considered a 'choral rock star' by American Public Media, Jake is one of the most frequently performed and commissioned composers of choral music in the world, having "…a particular knack for marrying powerful music to texts that speak to some of the most pressing and moving issues of our time" (Star Tribune).  This is an extraordinary opportunity for RainShadow to work closely with a composer of his caliber.  And we know the whole community will be enriched by the experience.
When RainShadow Chorale performs its fall concert program this month, it will include a special guest with whom its members have felt privileged to work.
RainShadow Chorale's artistic director Rebecca Rottsolk invited Jake Runestad, who's recognized both nationally and internationally as a composer and conductor, to come to Port Townsend and work with the chorale, to prepare two of his compositions and conduct them in two performances.
"This is an extraordinary opportunity for both the choir and Jefferson County," said Beverly Schaaf, administrative manager for RainShadow Chorale. "Rebecca has a national reputation herself, and it was through her previous contacts with Jake that she was able to make this happen."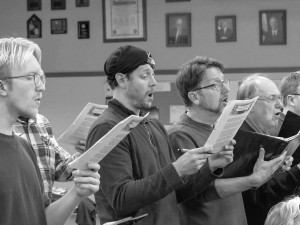 Rottsolk described herself as "a repertoire hound" who loves "new, exciting and outstanding" compositions, as well as the composers who create them.
"Jake has been one of my favorites since he started emerging as a star," Rottsolk said. "RainShadow has sung a number of his works over the past several years. I love the kinds of texts he chooses, how he sets them to music, and how approachable his music is for a good community chorus. Audiences love hearing his music, too."
Both Runestad and Rottsolk hail from Minnesota, "where there is a hotbed of young, vibrant composers," and she was especially moved by his writing on "The Secret of the Sea," an 11-minute piece written for a string quartet, piano and percussion.
"The size, length, chamber-sized instrumental ensemble, and of course, the sea text made me think it was a perfect fit for our part of the world," Rottsolk said. "He generally chooses emotional, descriptive, nature-based but secular texts, which I truly appreciate."
Because Runestad self-publishes his compositions, musical performers such as Rottsolk communicate with him directly to purchase his scores.
"Because RainShadow is as well-organized and fiscally sound as it is, and the choir had successfully sung several other works by Jake, the board had confidence to go ahead with this project, and our donors were eager to support us, beyond our usual concert budget," Rottsolk said.
Rottsolk described the relationships between composers such as Runestad and performing groups such as RainShadow Chorale as almost symbiotic.
"These new composers need us — conductors and choirs who will create good performances of their work — in order to survive, as much as we need them to stimulate and challenge us with incredible new music," Rottsolk said.
Although Rottsolk has been a choral conductor for 50 years, new music has always been of great interest to her.
"It's my job as a professional to be connected, and it's a piece of my job that I love," Rottsolk said. "There are tremendous resources online these days, that make discovering new composers and their music much easier than, say, 10 years ago."
As much as Rottsolk values "eloquent expression of the text, heartfelt storytelling, communication and exceptional artistry" from her composers, she also appreciates that the choir with whom she works has "an exceptional work ethic, fine musical skills and a love of working together," allowing them to create "uplifting and inspirational programs that are well-loved in our community."
Lynn Nowak was invited onto the RainShadow Chorale by Rottsolk, and this will mark the fourth concert she's sung with them over the past few years.
"Rebecca has boundless enthusiasm for choral singing," Nowak said. "She also has a gift for programming. She chooses repertoire that is in turns challenging, moving and has something to say to singers and audiences alike."
"The Secret of the Sea" appealed to Nowak because of the coastal atmosphere it projected.
"If we do our job, I think audiences should experience an afternoon on the shore," Nowak said. "Through the music and the text of these songs, we hope to suggest the tidal pull, the salt spray and nature at work."
Nowak noted that Rottsolk already pushes her singers to "perform to a higher standard," but added that the nuances of Runestad's compositions have challenged them even further.
"Rebecca has the uncanny ability to extract the best from her singers, and when we're able to achieve the type of finesse she's asking for, it's an infinitely more rewarding, transcendent experience for all of us," Nowak said. "Of course, as choral singers, we create beauty together that cannot be accomplished alone."
Nowak has been eager to "soak up" as much as Runestad has had to teach the choir, even as she's navigated the "tricky changes" in his compositions' time structure.
"You can't always rely on feeling the beat," Nowak said. "The rewards come from the shivers of satisfaction we get when we sing the nuances the composer has written, and the conductor has interpreted for us. As a community choir, we're not the type of group Jake normally conducts, but as a fellow singer remarked at a recent rehearsal, we have so much passionate, collective choral experience in RainShadow."
Fellow RainShadow Chorale member Rebecca Nerison agreed "we're all a bit nervous, as well as really excited" about working with Runestad.
"His compositions are technically challenging, yet completely engaging, with their musical and poetic drama," Nerison said. "So I work  to get the overall feel of the music, the right notes in the right places, and finally, the emotional nuance that's always present, but not always delivered. It's very rewarding to come together, as a chorus, to put all of this together."
Nerison recalled Rottsolk telling the choir that they brought "a depth of character and experience" to their singing that Rottsolk believes is not possible for choirs comprised of college students, or even professionals.
"Don't expect a flawless performance," Nerison said. "Perfect technique might be nice, but it's not needed to convey the stories that these works tell. I believe that beautiful music makes the world a better place to live, and I'm honored to be part of this enterprise."
Dan O'Brien gained a sense of community purpose from the groups that he sang with before he joined RainShadow Chorale.
"For a group of singers, this purpose is all about sharing something greater than just the sum of their parts," O'Brien said. "A solo singer may have an amazing voice, but it takes a village of singers of all talents and abilities to take on the challenges presented by composers such as Jake Runestad."
O'Brien began singing with RainShadow during the same month he and his husband moved to Port Townsend, in August of 1987, and less than a week after he first contacted Rottsolk, he was already rehearsing Mozart's "Requiem" for that fall season.
"The beauty of live performance is that nothing is guaranteed," O'Brien said. "But when you show up well prepared, and sing from the heart, there is always the possibility of having a joyful impact on the audience."
RainShadow Chorale's performances with special guest composer and conductor Jake Runestad are Nov. 16 and 17 at 4 p.m. at the Lutheran Church of the Redeemer on 45 Redeemer Way in Chimacum. Please join us.