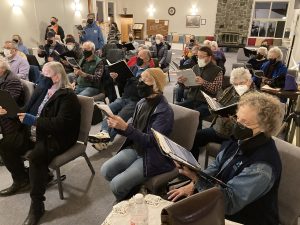 As with so many choirs, RainShadow Chorale was not able to gather in person for 18 months.  Finally, in September 2021 we could wait no longer.  With masks, outdoor rehearsals, (see photo) vaccinations, windows and doors open, and with reduced numbers, we were able to sing together, and celebrate our beloved Artistic Director's final RainShadow concert.  (photo below)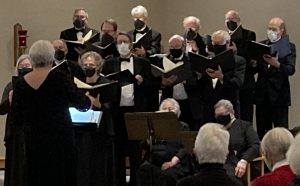 Rebecca Rottsolk led us for 20 wonderful years.  Now we move on to our next chapter. The RainShadow Board has begun the search process for a new Artistic Director.  In the meantime, we are excited to come back in a couple months to begin rehearsals for a May concert, under the direction of Guest Conductor Jolene Dalton Gailey.  She brings many years of experience and, most importantly, deep knowledge of and a passion for choral music.
There are still many unknowns about the Pandemic and its ability to derail plans.  We are proceeding with all the appropriate caution and protocols, and with high hopes and the joy of being able to continue doing what we love – sharing the power of choral music – and to perform for you in the spring. 
Stay tuned and watch this space!  Our concerts are planned for mid-May.  Once those days and times are finalized the details we will let you know!
Please join our mailing list!  Just add your name and address in the space to the right, under the Facebook link.